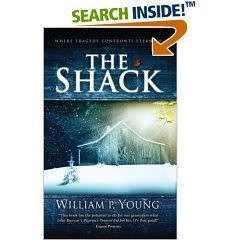 Since late January or early February, I have been reading
Anna Karenina
.  It has been a slow process getting through this book. I am thankful that I created my reading challenge or I would have given up by now and moved on to another book.  
Anna
sits on my night stand calling my name repeatedly to finish her.  A few weeks ago, I committed to not read anything else until I finished
Anna
.  I finally made it through a portion of the book that was painfully slow moving and started getting into some more interesting reading material again.
Just as I was getting back into
Anna
, I started hearing about this book called The Shack.  It was a book that intrigued me, but I was going to stick to my commitment to not read anything else until I had finished reading

Anna

.  I was content with my decision to add The Shack to my sidebar and read it next or even later this year.
Last week when the kids and I were at the library getting our books for school, there was The Shack. Sitting front and center on the display shelf calling my name.  I resisted, but only for a minute. I knew this book was just waiting there for me to check it out. I rarely find books that I want to read at the library when I am ready to read them. I regularly have to go online to request the books that I want to read.  So I picked it up, broke my commitment to Anna (sorry Anna!) and started reading. 
I wasn't sure what to expect in reading The Shack. Generally when I hear a book is "the best book" or a movie is wonderful, I set myself up for something wonderful and then feel disappointed.
Do I think The Shack was the best book I have ever read? No, I don't think it is the best book I have ever read, but I am not sure I have a book I think is the "best I have ever read".  I found the book to intrigue me.  There are parts of the story that are heartbreaking, parts that make profound (to me) statements about forgiveness, and our relationships with each other as well as the Trinity.  It isn't easy to understand the Trinity, it isn't easy to understand God's tremendous, unconditional love for us all - but I think this book gives a good perspective on it.  
I am going to read it again. There are so many things I know I missed the first time through and I want to revisit some of the things that touched me.  I really want to get my own copy so I can underline and highlight the things I want to remember.  I am strongly encouraging my husband, who is not a reader, to pick up this book and read it.